Sometimes stores don't offer us the products that we need, or perhaps we don't like a specific aspect of that product, and we wish we can change it somehow. You might've browsed on the internet on how to make particular things for yourself, and can be catered to your liking. For example, you saw a pantry that you like in a store, but you can't buy it because it's either too expensive or it won't fit in your house.
In this article, we're going to list some tools for you beginner DIY's make sure to read this post to know more about what those tools are.
Circular Saw
If you're interested in woodworking, you might want to invest some of your money in buying a circular saw. Sure you could use a handsaw, but if you're not used in woodworking, you might injure yourself or not getting the straight line cut that you want.
Although a circular saw cost some money, it will most likely get the job done. If you're thinking to buy a small circular saw or at least to look at some reviews, consider checking the link that we've provided.
Hot Glue Gun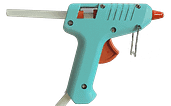 Whether you're working with wood or with glass, a glue gun is definitely on your 'must-have.' A glue gun can quickly get the job done, be it gluing some buttons, or even attaching stuff to furniture. Additionally, you can also get a nail gun in case you need to nail things down, as getting a nail gun is much better than using hammer and nails.
Table Saw
You might be thinking that a table saw is expensive and might not be worth the cash, well think again. There are many reasons why you should own a table saw, starting from their durability and their measurements which will help you to cut the same thing without different sizes.
Tip: A bigger table saw might be much expensive, consider getting a smaller one if you're worried about your budget.
Hammer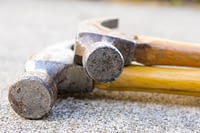 Even though we recommend you to get a nail gun, it doesn't mean you can forget about this one. A hammer is perfect in case you want to break things apart, nailing some things that a nail gun can't, and remove nails that you don't want anymore.
To make things even better a hammer is probably the cheapest tool that you can buy in the shop, so better get this staple one on your box.