A best friend is special to you and they deserve a gift whether you've been friends for five years or your whole life. It doesn't have to be holidays to get them a gift. A gift is a kind gesture of showing your best friend that you treasure him or her on national best friends day. Here are some gift ideas for your best friends:
Matching Jewelry
The old-school heart-shaped chains are still cute gift ideas. That is simple and thoughtful perfect for any time you are thinking about your best friend. They can be made locally and customizable with your friend's name or initials. Gift your best friend with a mantra bangle bracelet saying "you're my person". The bracelets are shiny with sleek edges and a nice finish.
They are comfortable and lightweight for daily wear. You can also get your friend an infinity necklace to remind them that your friendship is forever. You will let them know that you'll always be there. Customize any message of your choice on a piece of jewelry, you can write words of affirmation that promise an optimistic lifestyle, mindfulness, and positivity.
Long Distance Touch Bracelets
Technology has led to the invention of a pair of bond touch bracelets. When you touch it your best friends feel it. This is a perfect gift for best friends living far from each other, your presence will be felt no matter where you are on the planet. The touch bracelets work by natural vibrations that mimic your friend's touch. The touch will be felt and the bracelet will light up in the color of your choice.
When you miss your best friend all you have to do is a simple tap and keep connected. You can use the bracelets to send every secret message and pictures, it is secure and encrypted. Most touch bracelets are waterproof you can go to the pool up to 3 feet deep without damaging them. The touch bracelets are available on Amazon and other online stores.
Best Friend Hoodies
Best friend hoodies have become a trend nowadays. There are a lot of patterns to choose from. The most common ones have a heart shape with the phrase "best friend" split between the two. Choose complementary colors such as black and white to take the effect a notch higher.
"Good vibes only" hoodies are suitable for him and her. It is thought of telling your best friend to spread good vibes in the world. You can have the hoodies printed any message you want, for example, print cars or make-up if your friend likes them.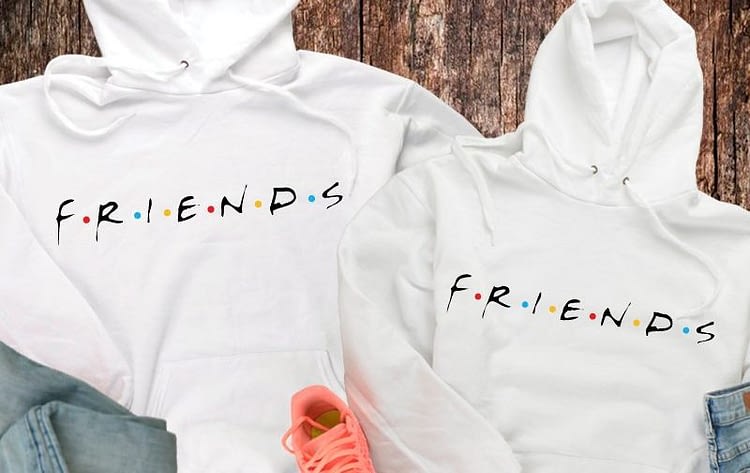 Docking Station Gift
A docking station is a gift that will keep your best friend organized and at the same time a thoughtful gift. It has various provisions to hold essential stuff such as phone, car keys, flash disk, watch, sunglasses, charging port, etc.
Make it more special with the customization option. Your friend will always feel treasured when he or she sees the docking station gift. It can be placed on the bedroom side-bed table or a table at the entrance of the house.
Cute Gift Ideas for Your Best Friend